This half term's topic is Mini-beasts!
This week the focus is going to be Mini Beast songs
Have a go at learning and performing the mini beast songs
Reception – Phase 3 activities 
Maths 
Topic: Make a bug hotel
https://schoolgardening.rhs.org.uk/resources/project/make-a-bug-hotel
What makes a good bug hotel?
The best bug hotels have lots of small spaces in different shapes and sizes and made from different materials. Ideally some should be nice and dry inside, and others a bit dampish. Bug hotels are generally made from reclaimed materials, or natural objects, which reduces cost, helps them blend in with their surroundings and is probably more attractive to the mini-beast guests.
Preparation
Gather all the materials you may require. If working with younger pupils ask the adults to pile the pallets or materials into a safe tower before the pupils arrive.
Equipment needed
Old wooden disused pallets
Twigs, logs with holes drilled in them, bark, bamboo canes, straw, pine cones
Terracotta pots, pipes, old roofing slates or tiles
Green roofing material, turf or other solid material to cover the top or 'roof' of the bug hotel
Hints & tips
What might check in to your bug hotel?
A surprisingly wide variety of invertebrates including nesting mason bees and leaf cutter bees, woodlice hiding from the sun – and woodlice spiders hunting woodlice, earwigs hiding their babies from predators, ladybirds and lacewings hibernating over winter, beetle larvae feeding on the dead wood, funnel web spiders and centipedes storing their prey.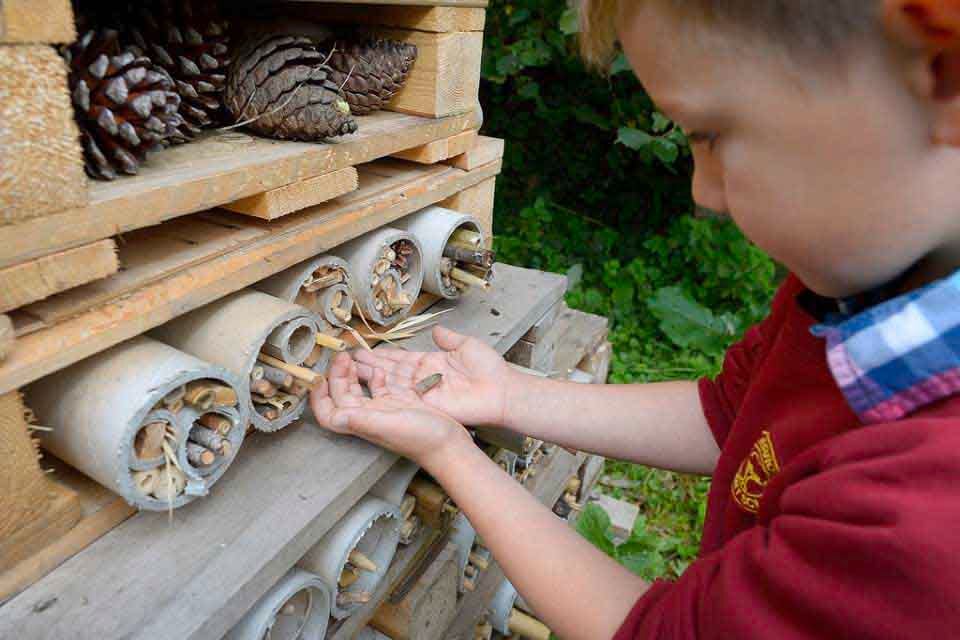 Small bug or ladybird home
https://schoolgardening.rhs.org.uk/Resources/Activity/Make-a-simple-bug-or-ladybird-home
Create an insect home, place it in your garden and see who comes to visit!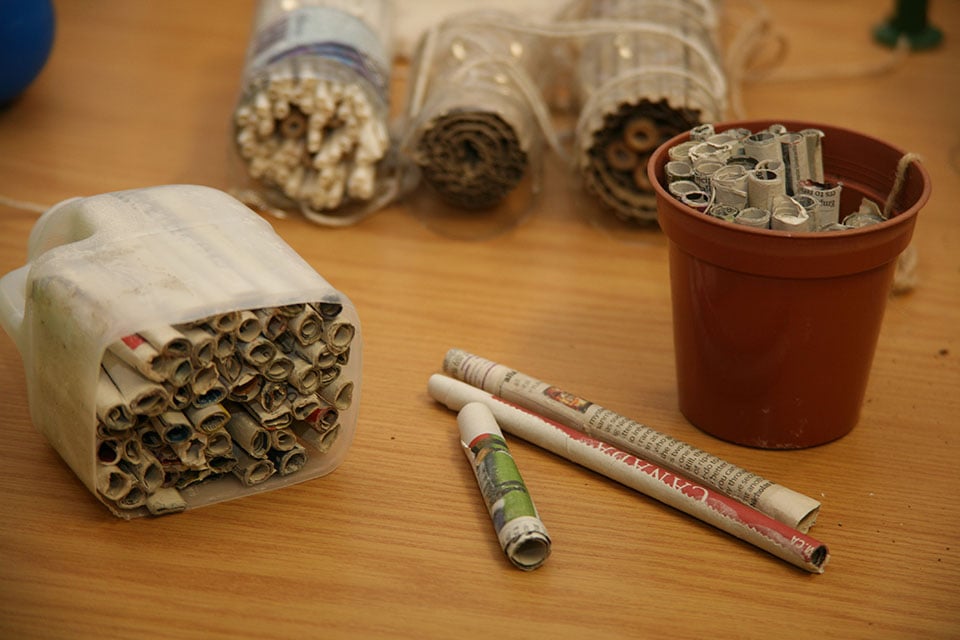 Step by step
Cut the end off a plastic drinks bottle or cut a plastic pipe to 20cm in length. To reduce, reuse and recycle plastic plant pots, milk cartons or old carboard coffee cups can also be used.
Make newspaper tubes by cutting newspaper lengthways and rolling up. Ensure there is a hole in the centre of around 4mm. Rolled corrugated cardboard can also be used.
Cut the material to the length of the pot or bottle. The bamboo needs to be cut so that the solid node is at the closed end or the whole length is hollow.
Fit the materials tightly into the bottle or pot, so they won't fall out. Ensure the hollow ends are facing outwards, and will be protected from rain.
Place your bug home almost horizontally in a warm spot with the open end slightly lower to prevent water logging. Bug homes are best placed no higher than 1m above the ground. The best places to put them are in a tree, bush, at the base of a tree and most importantly in a quiet place.
The best season to make a bug home would be early autumn, so the insects have somewhere to hibernate for the winter.
Hope everyone is happy and well at home…keep smiling 🙂