| | |
| --- | --- |
| | Would you like to help keep your community safe, get some exercise, meet new people? |
---
Would you like to help keep your community safe, get some exercise, and meet new people?
We are looking for volunteers to join our new StreetWatch scheme!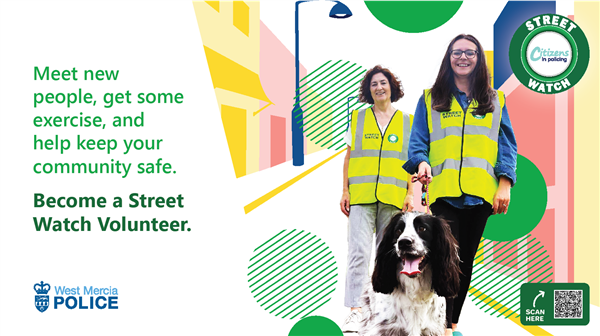 As a Streetwatch Volunteer, you will walk your local streets in groups and provide reassurance and engagement with local issues that matter most. While you will have no police powers, you will work directly with local policing teams to report any issues noticed during your walks.
Becoming a StreetWatch Volunteer is a fantastic way to help keep your community safe, to meet new people in your community who share the same values, to improve community engagement with the police, and to keep fit and healthy.
Interested? Learn more by clicking here.
Apply today by clicking here, or by emailing citizensinpolicing@westmercia.police.uk.

| | |
| --- | --- |
| | Message Sent ByGail Duncan (Police, Administrator, Citizens in Policing) |